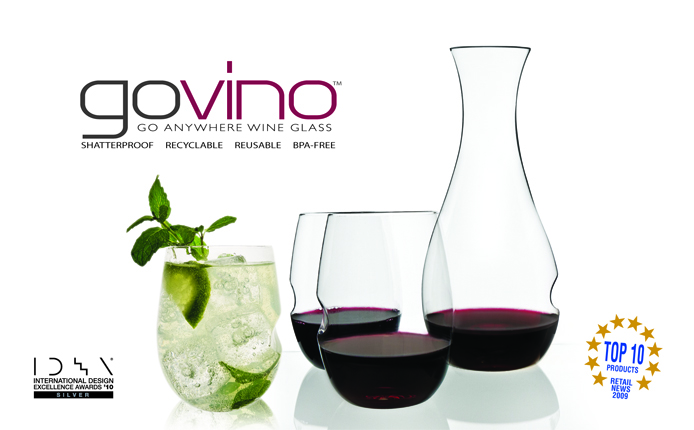 Finally, the perfect wine tumbler that goes places where a glass does not – the patio, to the beach, picnics, around the pool and into luggage. Fine stemware breakage is a problem but not with the govino!
Note: the Classic Series is hand-wash only!
Features:
• Brilliant design, BPA Free (Bisphenol-A free)
• Food grade thermoplastic polymer resin
• Recyclable (# 1)
• Shatterproof
• Reusable
• Tulip-shaped stemless
• Reflects the wine's colour and aromatics much like crystal
• Perfect for any outdoor use
• Perfect shape to swirl and aerate wine
• Indention to keep wet or greasy hands from losing grip
• Hand wash recommended
Enfin, un verre à vin parfait accueilli là où un verre ordinaire n'est pas le bienvenu: le patio, la plage,
le pique-nique, autour de la piscine et dans les bagages. Avec govino, vous n'aurez aucun problème de verre cassé !
Les caractéristiques principales:
• Design éclatant, sans bisphénol A,
• Résine thermoplastique de polymère de catégorie comestible
• Recyclable (# 1)
• Incassable
• Réutilisable
• Forme de tulipe
• Reflète la couleur du vin et les composés aromatiques tout comme le cristal
• Parfait pour n'importe quel usage à l'extérieur
• La forme parfaite pour tourbillonner et aérer le vin
• Lavage à la main recommandé
Display 12 Products per page